Gravure'85

Country

Nederland
Unique Investment by Gravure'85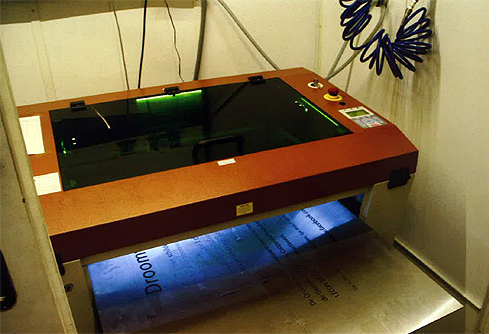 Those assuming that laser engraving or marking is not possible for large format metals, are mistaken. In fact, Dutch industrial engraving company Gravure'85 has proven the contrary. Ernst Hendriks, owner of Gravure'85, wanted to find a machine capable of marking and engraving large (stainless) metal plates in one pass. His search eventually led him to the Dutch supplier SignSeen (Veenendaal, the Netherlands).
Stainless-steel/Metal laser engraving on the larger scale
Supplier SignSeen installed a machine usable for large format metal marking and engraving at engraving company Gravure'85. "Laser engraving large format materials is a quite particular craft within our industry", Jan W. Leendertz, managing director of SignSeen, U.S.. So far, the supplier has only sold this type of devices to the industry.
SEE MORE...
I remember (nearly a year ago now) using this exact machine to produce my product for my Product Design GCSE, the product itself achieved an A grade. The machine was great, I worked on it a lot as my product was fully CAM made. Top notch for quality the Laser Pro machines are!
Mr. Gorodetskiy

Country

Russia
I'm happy, that my Neptune does work invariably, and I can be sure in tomorrow day.
Mr. Chirkov

Country

Russia
We have already bought 3 units of Venus and 1 Jupiter to produce the stamps. GCC laser machines are corresponding to Russian Federations Stamps norms and standards in spite of 1000dpi, when following them it must be not less then 1200dpi resolution.
Ken Juenke

Country

United States
SINCE WE PURCHASED THE SPIRIT GX FROM LASER PRO, OUR COMPANY HAS SEEN OUR PROFITS INCREASE EVERY MONTH. FROM THE MOMENT IT WAS SET UP IT CHANGED THE WAY WE APPROACH JOBS. WE UTILIZE IT FOR NAME BADGES, NAMEPLATES, CUTTING AND ENGRAVING INSTRAMENT PANEL COVERS. WE HAVE ALSO BEEN ABLE TO USE IT FOR CUTTING OUT ACRYLICS FOR OUR FABRICATION DEPARTMENT. THIS TIME SAVING MACHINE IS EASY TO LEARN AND OPERATE. BECAUSE OF THE QUALITY OF THE MACHINE, WE HAVE ONLY TO CONTACT TECH SUPPORT A COUPLE OF TIMES, AND THEY WERE FANTASTIC.
Stefan Gustafsson

Country

Sweden
We are SkyltDirect AB in Sweden. We currently use 7 LaserPro Spirit. Close to 20 laser machines has been used over the years, many of them LaserPro Mercury but now we only use Spirit As the leading producer of engraved signs in Sweden, we can't use anything but the best, most reliable and efficient machines possible. After some testing, the first years we found that GCC and SignCom provided just that quality and reliability that we needed. In our business delivery time is everything. A normal day we take care of aprox. 160 orders and produce over 4000 signs to customers all over the country. We always promise them delivery next business day, and thanks to GCC technology and great machines, we can keep our promises.