Nota de Prensa
Apr.2013
GCC Cutting Plotters Make Mass Production an Easy Task
GCC, a global forefront equipment-manufacturing provider in the visual-tech industry is delighted to introduce the workflow that simplifies and accelerates your mass production projects!
Wish you could eliminate repetitive procedures for large projects? GCC Cutting Plotters make your productions no longer a daunting task! Users can input a list of characters, numbers, etc, directly to Adobe Illustrator, CorelDraw or SignPal before the fonts and sizes are changed, without the worry of having to edit and output the characters one by one. This will save you a tremendous amount of time and labor when working on a huge project, say, producing 50,000 sports t-shirts with different heat-transferred names and numbers on; such efficiency will surely bring you more business opportunities!
Simply paste the entire list of names, numbers, characters, etc., you would like to output from an Excel sheet to Adobe Illustrator (or CorelDraw, SignPal). Click on Ungroup in Object to edit the texts individually then output them to GCC Cutting Plotters!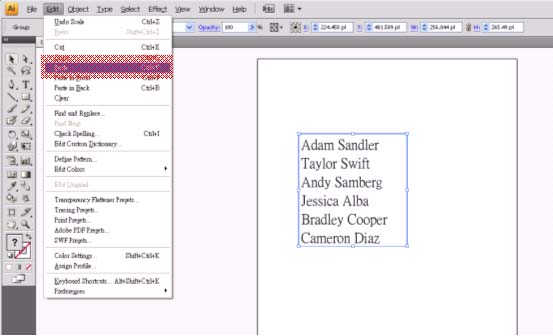 For more product information, please contact local GCC sale representatives in your area or visit http://www.gccworld.com/