Nota de Prensa
Mar.2014
Create Material Parameter Database with GCC Cutter Driver
GCC, a global forefront equipment-manufacturing provider in the visual-tech industry, would like to introduce the reference parameter settings on the user interface. It is a handy tool allowing users to load frequently used parameters through one click and simplify the cutting job.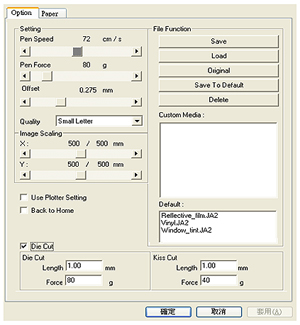 Users can enjoy the advantage of the creative material parameter database as they need not set the parameters repeatedly and keep a smooth workflow when working with the same material.

The "Default" and "Custom Media" columns have been added to the user interface of cutter driver. "Default" refers to a list of different types of media with suggested parameter values. The list varies based on the driver installed; for example, the default list of drivers of high end models such as Jaguar IV and RX series, contains reflective film, vinyl and window tint.
"Custom Media" allows usres to set the parameters of Speed, Force, Offset and Quality for later use. The "Custom Media" function enables users to customise their own settings to facilitate efficiency and save working hours. The function is available on all GCC cutting plotters.
Note: The reference parameter settings are suggested to achieve the best cutting results with verified media. The settings may vary according to different brands of media used and miner modification of the settings might be required.
For more product information, please contact local GCC sale representatives in your area or visit
www.GCCworld.com
.
About GCC
GCC, a global leader in professional large format UV curable inkjet printer, laser engraving/cutting/marking systems, vinyl cutting equipment, provides businesses, governments, and consumers with innovative and reliable solutions. Headquartered in Taipei, Taiwan, GCC has branch offices in Walnut, CA and Capelle a/d IJssel, Netherlands. With over 100 current and pending worldwide product patents and trademarks, GCC has earned a worldwide reputation for innovation, quality and reliability in the awards & recognition, sign, personalization and manufacturing industries.