Nota de Prensa
Nov.2016
Define Your Printable Area with SmartPOSITION™
GCC, a global forefront equipment-manufacturing provider in the visual-tech industry, is pleased to introduce SmartPOSITION™, a function that allows users to fully customize the print area needed.
In addition to the sign industry applications, the GCC JF-240UV flatbed printer is also a perfect tool for the creation of personalized products. Acrylic, PVC foam boards, aluminum composite materials (ACM) and other materials commonly used in signage are usually in the shape of a square or a rectangle, on which the exact position of the print images can be easily defined. Yet sometimes users may wish to print on an irregular-shape medium, especially for personalized items including specialty or custom items and find it difficult to define the origin. SmartSPOSITION™, GCC's in-house developed software allows you to customize printable area and adjust the size and position of a graphic to the designated area on both a regular-shaped print object and an odd-shape print medium.
Only three steps are needed to complete the setting of a self-defined printable area via SmartSPOSITION™:
1.Select the SmartPOSITION™ icon on the main page.

2.Press the Arrow Keys to move the carriage to the lower right corner of the print object and then press the Position 1 icon.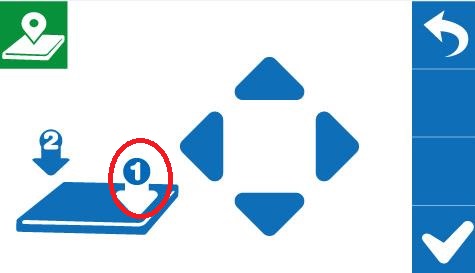 3.Move the carriage again to the upper left corner of the print material and press the Position 2 icon.
For more product information, please contact local GCC sale representatives in your area or visit www.GCCworld.com.