Nota de Prensa
Nov.2014
Stunning Color Varnish (Patent Pending) for JC-241UV Printer/Cutter
GCC, a global forefront equipment-manufacturing provider in the visual communication industry, is glad to introduce an innovative feature – color varnish for GCC JC-241UV Printer/Cutter.
With its constant beliefs in innovation, GCC has been a leader in peak technologies. In addition to various built-in varnish patterns and four gloss effects, GCC has further developed the color varnish technology available for roll and hard materials on JC-241UV printer/cutter.
Varnish is a transparent spread on the surfaces of printed matters (images) that forms a thin and even transparent gloss layer after its leveling and UV curing for drying process. Varnish protects printed content, enhances durability and raises the value-added of products as it creates a gloss effect on specific parts of printed matters.
Here are the benefits and features of the varnish modes developed independently by GCC:
Four gloss effects:
Gloss: The graphic is made to be glossy
Semi gloss: The graphic is made to be semi glossy
Matte: The graphic is made to have a matte surface
Water mark: The graphic is made to be glossy with watermarks
Color Varnish (patent pending)
Incorporating years of experience in spray printing and colors, GCC, by adjusting the spray printing control of color inks and varnish inks, applies color varnish to printed matters. This advanced technology is an excellent helper of color customization and fully exhibits the promoting effects and practical value of the combination of varnish and patterns on printed matters(images) protection and enhancement.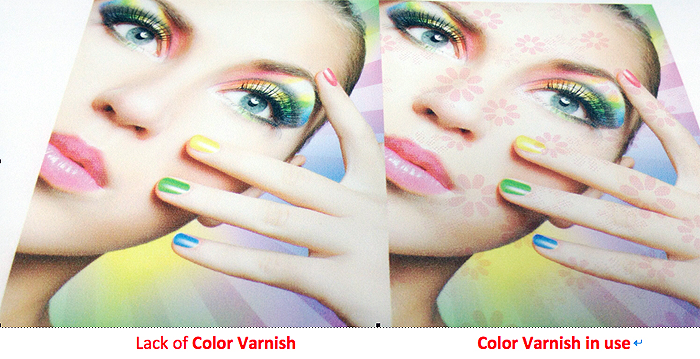 As the best solution for spot varnish, JC-241UV printer/cutter is an excellent tool for convenient and versatile printing applications.
For more product information, please contact local GCC sale representatives in your area or visit us at www.GCCworld.com.