Desktop
LaserPro Venus II no es solo la grabadora LaserPro más compacta, sino que también viene con un interface de fácil uso. Utiliza software basado en Windows para realizar ajustes con pases finos en superficies planas, convexas o cóncavas de grabado. Venus es también la elección perfecta para hacer sellos o estampillas.
RoHS Compliance
All GCC products are RoHS-compliant (the European Parliament Directive 2002/ 95/ EC, Restriction of Hazardous Substances) and lead-free (pb free). GCC will continue to concern and provide environmentally friendly products to protect the earth for our further generation.
Drag-N-Play
An exceptionally innovative and user-friendly feature based on servomotor technology simplifies operations and shortens setup time. Simply hand drag the lens carriage to the desired position to be engraved and press the start button to commence job.
User-Friendly Interface
LaserPro windows based driver provides powerful function settings, such as engrave mode, programmable origin, various dithering types and more to meet users' specific needs.
AutoFocus (Patented)
Patented Auto Foucus Gauge adjusts the laser engraver to the precise focal point on the engraving area automatically. The Auto Focus is the most effective lens-focusing tool that prevents human error when exact measurement of distance from the surface of the working material is needed.
Unique Design Down Vacuum Table
A4 size working table and the unique dust collecting mechanism allows the full table rubber stamp to be engraved and debris to be gathered easily all at once.
Windows-based Driver
Windows-based drivers offer plenty of functionality, including pitch tuning to adjust for a vertical profile for each character during stamp engraving.
Precise Closed-loop DC Servo Motor
A high speed Closed-loop DC Servo motor shortens the overall engraving time, while maintaining excellent engraving quality.
Job Preview Function
The GCC LaserPro laser engraver all series printer driver features a job preview function that previews graphics before the official laser printing process. One of the highlights of this feature is that it provides an estimated working time*.
The estimated working time is an easy tool for operators to know in advance as how much time will be needed to finish the job for better job management; it is also convenient for a shop to provide a quotation for its laser services.
Special Fire Retardant Material
The flexible right and left table shields are designed to coordinate the up down Z rail. These two shields isolate the airflow in the middle of the working table; thus, the possible damage caused by the heat is reduced.
Unique Feature for Making Stamps
The 2" diameter hole is provided for stamps with a longer body. The size of this pit fits to your stamp sample perfectly. Just position the stamp stick into the hole. Longer stamps can be made with ease.
Built-In Networking Connection
Network connection enables multiple laser engravers to be operated by one PC and multiple PCs to share a single unit of laser engraver. The Ethernet port has made data transmission easier and faster for GCC LaserPro users using network connection. Free your designers with great flexibility and maximum machine versatility...MORE
SmartPRINT™ (Optional)
The GCC LaserPro SmartPRINT™ software features powerful functions, an intuitive interface and embedded GCC LaserPro laser parameter setting for both MAC and Windows users....MORE
SmartPRINT™ Flyer Download
Wi-Fi Router
Wi-Fi router allows you to transmit data through a wireless network. It can work with GCC laser engravers and RX II/ Jaguar V cutting plotters through the Ethernet port (not applicable for Japanese users.) Whether you are sending files to multiple GCC machines using one PC or sharing one unit of GCC machines with multiple PCs, this wireless technology can be an excellent helper.
Entry-Level Fume Extraction System
In addition to Purex, GCC also offers a series of entry-level fume extraction units for customers who run for general purposes and relative light duty operation. GCC LaserPro PA-1500FS & PA-1000FS, CE-certified fume extraction systems, are designed to remove the hazardous fumes and dusts during laser processing to protect the health of operators, eliminate environmental pollution and enhance the laser cutting and engraving quality at the same time.
The GCC PA-1000FS fume extraction unit is suggested to work with Mercury, X252, or desktop engravers, while PA-15000FS works great on Spirit series, X380, and MG380Hybrid laser systems.
Dust Prevention Window
When the laser system is on duty, it will bring a lot of dust result from the material and it will contaminate the lenses and mirrors. Dust Prevention Window can keep lenses and mirrors clean to promote longer laser life and increase the effect of air induction.
Purex Fume Extraction System
GCC teams up with a UK company to offer the Purex fume extraction unit for its full-line LaserPro laser engraving and cutting systems. These Fume Extraction Systems are specifically designed to prevent personnel from inhaling hazardous fumes and dust generated during the process. Applicable to all GCC LaserPro engravers, the Purex Fume Extraction System represents the latest invention in the exhaust extraction and smoke reduction technology for all types of applications. Noise-free operation, high vacuum capacity, compact design and long life expectancy are just a few of its outstanding features. Powered by a maintenance-free, continuous-running turbine, the Fume Extraction System, which is CE-compliant, ensures personnel safety and legal compliance.
Air Compressor
A specifically designed Air Compressor for laser engravers, by using an oil-less diaphragm, you help eliminate the harmful and damaging side effects of moisture on the laser optics. Also, provides the optimal air pressure your laser needs to blow away vaporized particles and helps prevents overheating. A must to keep lenses and mirrors clean to promote longer laser life.
Venus II
VII-12
Laser Source
12W
Sealed CO2 Laser
Cooling
Air-cooled, Operating environment temperature 15°-30°C (60°-86°F)
Work Area
11.8 in. x8.3 in. (300 mm x 210 mm)
Max. Part Size (W x L x H)
14.2 in. x 11.8 in. x 2.8 in. (360 mm x 300 mm x 70 mm)
Dimensions (W x L x H)
24.4 in. x 17.1 in. x 18.1 in. (620 mm x 435 mm x 460 mm)
Weight
32 Kg / 70 lb
Drive
Closed-loop DC Servo Control
Maximum Speed*
20 IPS
Throughput*
110.7 in2 / hr (714.1 cm2 / hr)
Speed Control
Adjustable from 0.1 to 100% (Up to 16 color-linked speed settings per job)
Power Control
Adjustable from 0-100% (Up to 16 color-linked power settings per job)
Engraving capability
256-level gray scale image processing capability
Distance Accuracy
0.254mm or 0.1% of move, whichever is greater
Z-Axis Movement
Automatic
Focus Lens
Standard 1.5", optional 2.0" available
Resolution (DPI)
Available 200, 250, 300, 500, 600, 1000
Computer Interface
10 Base-T Ethernet, Full speed 2.0 USB
Compatible Operating Systems
MS Windows
Display Panel
4-line LCD panel showing current file name, total working time,
laser power, engraving speed, file(s) loaded into memory buffer,
setup and diagnostic menus.
Safety
Class I Laser Product Compliant with EN60825
Class II Laser Product Compliant with CDRH
Standard Feature
Auto Focus
V
Red Dot Pointer
V
Flexible Air Tube
V
3D and Stamp Mode
V
Reserved Stamp Jig
V
Facility Requirements
Operation Input
100- 240VAC, 50-60Hz Auto Switching, Max. 7A
Fume Extraction System
External exhaust system with minimum flow rate 215m3/h (CFM 125 ft3/h) is required,10kPA negative pressure (Purex GCC 400 @ 2" exhaust port)
*Speed is not equal throughput. See dealer or visit http://www.gccworld.com for more details.
Specifications are subject to change without prior notice.
*The flow rate is determined by a default fume extraction system; the flow rate may vary due to a di fferent fume extraction system.​
Patented Ultimate Ventilation System: Modifying Airflow Tube Size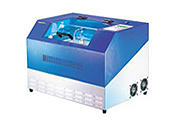 GCC LaserPro is proud to introduce the patent registered Ultimate Ventilation System built in the GCC LaserPro VenusII. This patented design offers you an even better ability to centralize the airflow and squeeze out the irritating bits and pieces.

The unique Ventilation System has three different options for modifying the diameter of air tube in the back of laser system, and operators are able to center or seal off the airflow under the work table by the flexible right and left table shields with the coordination of stamp engraving with Laser engraving machine the Z rail. Special fire retardant material of the shields not only reduces the possible damage caused by the heat, but also withstands the harsh stamp making environment. An assistant board to secure the work piece on the table is suggested, and it also seals off the exposed holes to make the Ventilation System much more effective.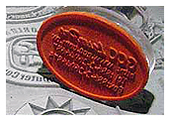 The capability of navigating the formed airflow is critical to sustain the output quality. Now with its compact designs and the extremely effective ventilation system, GCC LaserPro Venus II has successfully become the most popular desktop model in the market
Auto Focus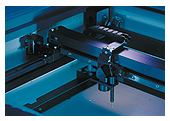 With just simply one button touch, your laser focus automatically sets itself on the engraving work table. GCC LaserPro provides many remarkable innovations on GCC LaserPro laser engravers and this time the patent registered Auto Focus device sets the precise focal point in no time without any guesswork. It is not an expensive optional item, but a standard feature on GCC LaserProSpirit,Spirit GE,Spirit GX, Explorer, Mercury II and Venus models.

When precision is a factor, the Auto Focus is an effective tool to prevent human error when focusing the lens to a specific distance from the surface of work material. The laser beam is five thousands (.005) of an inch in diameter. It is extremely accurate and requires an exact distance for optimum quality. In a nutshell doing this manual method is prone to human error. Whether the 1.5", 2", or 4" lens you are going to use, you must focus the lens to specific the distance from material surface. Although we still include the tool to do this manually, why would you? With the press of a single Auto Focus button, the work bed will automatically move upward to meet the focus gauge and then downward to the correct position. No matter what kind of work surface that you work with, (flat, concave or convex) the Auto Focus result is perfect every time. Your engraving projects become faster and precise with excellent quality to help you increase productivities and profits.